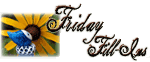 1. Ryan and Ashley's report cards are so exciting!
2. Strawberry fields and messy, sticky kids are only a few months away.
3. Brownie Triffle sounds like it would taste delicious!
4. Why does a sunny, warm day in a patio chair with a good friend and good conversation make me feel so good?!
5. The breathtaking scenery, famous castles and the laid back cities of Ireland are something I've always wanted to see. Someday.
6. It's sad when your children get their feelings hurt.
7. And as for the weekend, tonight I'm looking forward to calling my brother and wishing him a Happy Birthday, tomorrow my plans include calling my brother - very early in the morning - and wishing him a Happy Birthday (ha!) and Sunday, I want to watch my kids enjoy Easter morning while I obtain my own sugar buzz with the chocolate bunny that the Easter Bunny is going to bring me!