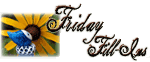 After another couple of gorgeous days outside in 70 degree weather, my mind is complete mush, so I'll give this a try.
1. Contact may cause me to become annoyed if you call me one more time. No, I do not want to buy tickets to the Policeman's Ball. Stop. Calling. Me.
2. The parties hereto do mutually agree to line their shoes up by the door, hang their coats up and put their socks in their hampers. Just once?
3. Disney Parks provided us with the best family vacation ever last summer.
4. A Smirnoff Ice sounds really good right about now.
5. I positively love early Spring-like weather.
6. Babies always make me smile.
7. And as for the weekend, tonight I'm looking forward to getting a good night's sleep, tomorrow my plans include an Easter Egg hunt at the new outdoor mall, shopping for birthday presents, a birthday party at Chuck E Cheese and cleaning my house, and Sunday I want to have a nice relaxing day at my sister in law's house celebrating my mother in law's birthday.