Our plan was to wake up this morning at 6:30am this morning and we actually stuck to it.

The Tooth Fairy did indeed find Ryan at Disney World and left him a two dollar bill under his pillow.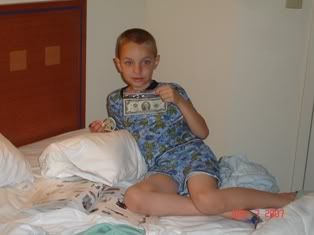 However, it was pretty slow going and we didn't make it down to breakfast until 7:30am – a half hour later than we had planned – but that's okay. We ate breakfast at Everything Pop and once again the food was great and very filling.

We got to Magic Kingdom at 8:30am to take advantage of their EMH hours and were definitely not prepared for how amazing the park is. We took our turn being awestruck, camera snapping tourists and snapped away.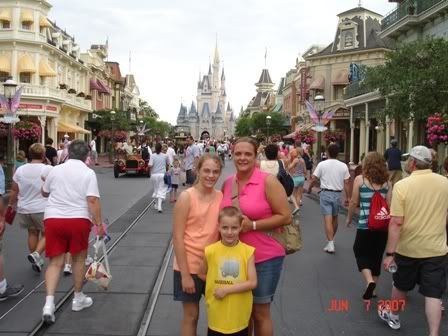 Then we headed straight for Tomorrowland and saw that the standby time for Buzz Light Year was only 10 minutes long and Ryan really wanted to ride it so we hit that one first. We all really had a great time on it, especially Ryan who still says that it's his favorite ride in all of Disney World. He beat my score my almost a thousand points – I wish I could say that I wasn't really trying, but unfortunately my aim is pretty off.

Ryan wanted to keep riding, but Ashley really wanted to try out Space Mountain, so we promised him we'd come back and headed on over to find that Space Mountain also only had a 10 minute wait. I just love this early morning non busy park benefit! Bret and I did a baby swap with Ryan because we didn't want to turn him off of roller coasters just yet (more on that one later), so Ashley got to ride twice, which made her morning.

Next we made our way over to Tomorrowland Indy Speedway which also barely had any wait. Bret rode with Ashley behind me and Ryan, who insisted on driving until he found that he couldn't steer the thing. Bumping along the track started freaking him out so I had to take over from the passenger seat. It was a lot of fun, but Space Mountain was still definitely mine and Ashley's favorite so far. (Bret's not big on rides, but he's a good sport about it anyway – unless it come to spinning tea cups!)




By this time, our neighbor friends were up and at 'em and met up with us in Tomorrowland. The kids all wanted to do Buzz again and the line was still next to nothing so we rode it two more times.




We were ready to leave Tomorrowland, but first stopped at the Monsters, Inc Laugh Floor Comedy Club. Once again there was barely a wait and we sailed on through. The show was very entertaining and it's amazing to see how well the characters interact with the audience. They seem to be right on cue every time. We figure there's got to be a comedian behind the stage who's saying everything.

Our next stop was Big Thunder Mountain Railroad, but first we grabbed Fast Passes for Splash Mountain since both had 80 minute waits already and it was only 10am. I couldn't believe I was standing in line for so long and it really tested Ryan's patience. We learned that he has none when it's hot and he's bored. He was nervous about the ride and I was sure it couldn't be that bad. After all, it's only a train ride and he loves trains, right? Hmm…




So 80 minutes of waiting later in the hot and humid sun, we finally got on the ride. Ryan cried the whole time and I felt bad for pushing him to do it. In fact, I didn't care for it myself too much either. It was very rough and jerked around a lot. It didn't help that I had one arm around him and could barely hold on myself. Unfortunately, this would predict how he felt about all rides to come. I strongly believe we should have started out slow for him, but everyone really wanted to ride the thrill rides before it got even busier. I really can't blame them – I just shouldn't have pushed him to ride it.

So now Ryan's nervous about all rides and we've have these Fast Passes for Splash Mountain at 12:30pm. I had heard that this was a much tamer ride, so he agreed to do it. We warned him ahead of time that there was one big hill at the end and then it would be over. He ended up loving it! It really slows down and eases a scared kid's mind with all of the fun things that they have to look at as you float through the inside of the mountain. We eventually reached the incline that promised what was to come on the other side and I told Ryan to put his head down against the padded front inside part of the boat and he did fine. Yipee, I don't win the worst mother of the year award after all!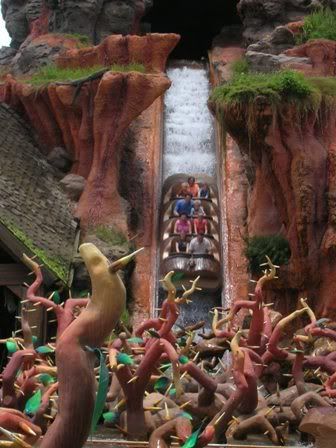 At this point, both kids were hot, hungry and exhausted so we decided to split up from our friends and head back to the resort. We did stop at The Hall of Presidents on the way out to check it out and cool off in the air conditioning. I do have to say I am very impressed with how many places you can find to cool off in the parks – even the restrooms! Ryan particularly loved this show since he's just learned about some of the earlier presidents in school this year. We snapped a picture of him in front of George Washington to email to his teacher when we get home.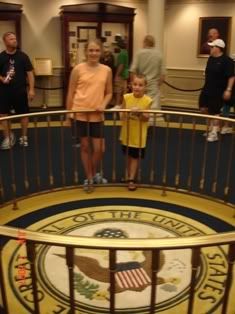 We reached the resort around 2:30pm and headed straight inside to eat lunch. Luckily, we had brought snacks to the parks with us, so the kids weren't as ready to pass out from hunger as they said they were. After eating, we headed upstairs to change into our suits and swam in the Hippy Dippy pool for awhile. The water felt so good and it was a great way to unwind and recharge.

Once we were dry and wearing clean clothes (because I am the queen of over packing, I have been told) we caught the bus back to Magic Kingdom to meet up with Teri, Scott and the kids. From there we caught the monorail and headed over to Epcot. When we stopped to transfer to the one that would take us to Epcot, we had the kids get in line to sit up front with the driver. Only four people can sit up front, so we sent the kids up there while we rode in the car behind them. They loved every minute of it and the ride to Epcot was a pretty good distance so they got a nice long ride.

Ashley takes a break while waiting for the monorail.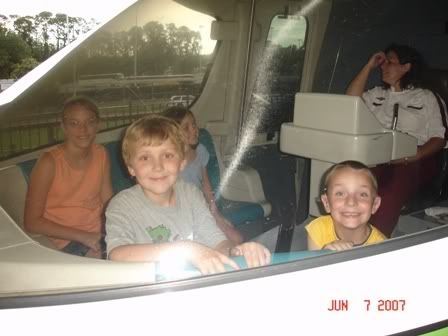 Once we got to Epcot, the sky was looking pretty dark and we figured rain was on the way. Our intentions were to see Illuminations, but we had time so we headed over to The Land and ate dinner at Sunshine Season Food Fair. I had what had to be the best sandwich of my life there. I highly recommend the Turkey & Muenster Chipotle Sandwich. It's served on Foccacia bread and was to die for. Their side of pasta salad there is really good, too. I'd have to say Sunshine Season's is my favorite counter service by far.

So we're leaving The Land to head out for Illuminations and of course it's raining again by now and I had taken the rain ponchos out of my bagallini to make room for other stuff. It's a very comfortable bag to carry but doesn't hold much when you've got the rain ponchos and you're empty refillable cups from the resort inside of it. Luckily our friends all had rain ponchos so we used their umbrellas and the rain soon turned to a drizzle and then stopped. Illuminations were unbelievable and a definite must see! Ryan isn't a big fire works fan though and I had to cover his ears the whole time while he had his face buried in my side. We stood right up front on the lake where they are set off from and leaned against a railing the whole time. You could feel the heat from the ball of fire that's blaze is so huge that you can feel the heat from it. We did get some falling ash that came our way, but nothing that wouldn't shake off.




After the fireworks, we were engulfed into the crowds of people leaving the park and made our way back to the shuttle. Surprisingly we were on the second bus out and headed back to our resort. The kids were too tired for baths, but we figured they had swum earlier in the day and we were finding that the weather in the evenings there was very comfortable. (Aside from the rain that seemed to pop up every time we went to Epcot.) The kids feel asleep instantly and Bret and I took our showers and were soon passed out ourselves.