Bret and I woke up earlier than planned at 6:30am and got ourselves ready before getting the kids up at 7am. The kids rushed into the living room to find that Tinkerbell had left them a surprise for their first trip to Disney World.

Tinkerbell had brought the kids each Disney t-shirts to wear today and some activity books and snacks for their very first plane ride.

We sent the kids to their rooms to get dressed and Ryan came running out excited because he had realized that he had lost his tooth while he had been sleeping. We found it on the floor and carefully packed it into one of our carry on bags so that the Tooth Fairy would find her way to Disney World tonight.


It was still early, but we headed out anyway at 7:30am, dropping the dog off at a neighbor's house and stopping at McDonald's for a quick breakfast. We arrived at the airport in Bloomington, IL at 9am. Our flight wasn't scheduled to leave until 11:26am, but the time went by fast as we check our bags and went through security. Ryan thought they were crazy for wanting us to take off our shoes and asked the security guy a million questions. He was so worried that they weren't going to let us get on the plane.

We made our way down to our gate and the kids passed the time watching planes land and take off.


I wasn't sure what to expect as we boarded the plane since this was the first time flying for the kids, but they were so excited about it that they never once got scared. The view from the plane was absolutely beautiful!



We arrived in Atlanta on time and only had a 42 minute lay over so we rushed to the other side of the airport to our departing gate and made it just as they were making the final boarding call. Whew!

Once reaching Orlando, our plane was put into a holding pattern due to a storm that had just reached the area, so we had to circle Orlando for 30 minutes before being given clearance to land. We landed at 5pm and looked around for the Disney cast members with the big white Mickey gloves that we had heard about, but they were no where to be found so we asked someone for directions to the Magic Express Transportation (ME) counter and headed that way, taking pictures on the way.



The line at the ME counter moved quickly. (Only one person from each party is allowed to go through the line.) We got in line for the bus and were on our way to the resort a little over an hour after our plane landed. With three stops at other resorts, we pulled up at Pop Century, but were pretty bummed because it was still pouring outside with no sign of letting up.

These are some of the pictures of the resort from our last night there, but I figured they would work better here.


Check in only took a few minutes and then we were on our way up to our room in one of the 60's buildings to drop off some of our carry on stuff and wait for our friends who had gotten there earlier in the day and were on their way back from Magic Kingdom to meet us at the resort for dinner.

Once meeting up together, we buried ourselves under our rain ponchos (thank goodness we had them) we headed down to Everything Pop for dinner.

Waiting for the elevator – we were on the 4th floor in building 5. Teri had turned in for the night since they had gotten up at 3am to catch their flight out and Bret took the picture.


I'm not sure what I had been expecting in terms of counter service food, but the food is really good there. I had the Chicken Penne Alfredo, Bret got chicken strips and fries, Ashley got a cheese pizza and Ryan got the kid's Mac n Cheese with grapes and a chocolate chip cookie. He's a really hard kid to feed because he doesn't seem to like anything. He didn't like the Mac n Cheese because it wasn't Kraft, but we thought it tasted fine. Instead he filled up on his grapes, cookie and Bret's fries. They really do give you a lot of food.

With full tummy's we decided to hop on a bus for Downtown Disney. We had originally planned to start out at Magic Kingdom, but with the rain still pouring down from the sky in buckets we decided to let the kids build their light sabers at Once Upon A Toy instead. Plus, I know Bret and Scott were pretty excited about making their own, too. Maybe more so that the kids.

Ryan and Quentin were the first to build their light sabers. They spent the time waiting once they were done dueling with them and knocking over innocent passerby's while they were at it. (Ok, not really. But it sounded good, didn't it?)


Ashley works on hers.




Bret and Scott were the most excited about building their double light sabers. I'm still not sure who this trip is for – them or the kids.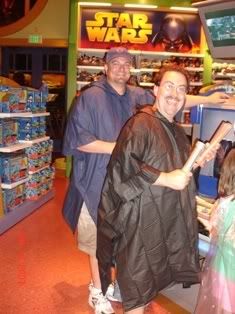 We would have loved to see more of DTD, but the rain wasn't letting up and we were ready to turn in for the night in hopes of getting to Magic Kingdom in time for EMH in the morning.