This morning we woke up at 7:15am and were all very excited to get to MGM so we could catch the Star Wars parade and take another shot at getting the kids into the Jedi Training Academy.

We were downstairs for breakfast (I'm sure you all know where we ate by now.) by 8am and at MGM by 9am. Whoo hoo! We made it! The lines were long to get in once again, but we really didn't mind because there were storm troopers positioned over head and I never realized that they were so funny before. They were communicating to each other about all of us in line, poking fun here and there. During our wait, Ryan had a little fun with them. He pointed a pretend light saber at the one standing just over us and the Storm Trooper pointed his finger at him and took aim with his gun and pretended to shoot at him. Ryan was all over this and they kept it up for a few more minutes.




Once we were admitted to the park we headed straight for the Jedi Training Academy stage for their first one of the day. Instead of standing in the middle of the lined up kids the way we had before, we had Ryan, Quentin and Skyler all stand in the corner right along the rope, closest to the stage and where the characters enter from behind the billboard. The show began and the two Jedi's came out and start picking kids from the audience.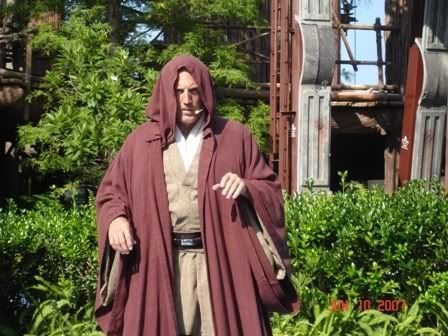 Ryan was the second one to get picked! Quentin and Skyler were both picked soon after. All three were out on stage putting their robes on and receiving their "training" light sabers! One of the Jedi's stayed up on stage with Skyler's group and the other came down to where Ryan and Quentin were.




The training began. "Aim for the right shoulder, then the left. Now duck, then go for the right leg, now the left and then aim for the head!" they were told repeatedly as they practiced. Unfortunately, with Ryan's hearing loss he could only hear the Jedi onstage using the microphone so he was turned around the wrong way facing the wrong Jedi. Too cute.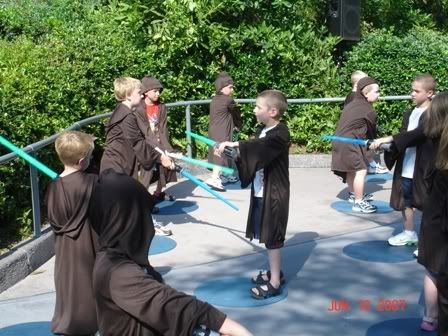 Just then the Jedi's felt a change in the force.




Could it be? Two storm troopers enter the stage to secure the area as the Jedi's move the padawan learners safely to the side of the stage. It is! Darth Vader strides out in a cloud of smoke from behind the billboard and enters onto the stage.




He tells the Jedi's that the force is strong with these kids. He then asks the kids to come with him to the dark side and he'll show them all of the ways of the sith and make them the most powerful Jedi's ever.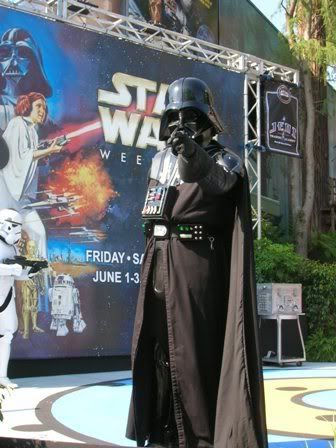 The kid's refused and out comes Darth Maul and the battle begins.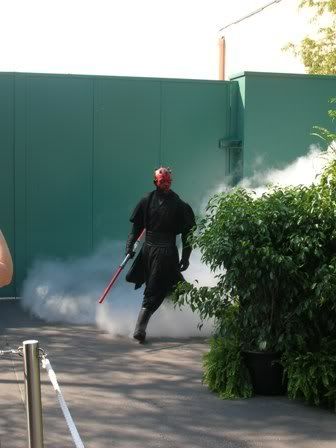 Each padawan on stage takes their turn at Darth Vader as each one on the ground below goes up against Darth Maul. All were instantly mesmerized by how graceful Darth Maul is in battle. Unfortunately none of us actually have a picture of our kids battling them because our cameras were busy in video camera mode. Ryan's turn came to go up against Darth Maul and he was pretty awestruck, I think. He did what he was suppose to do, but once again the hearing aids came into play and all he could hear were the instructions that the kid on stage fighting Darth Vader was hearing. As their battle came to an end, Ryan stood at the side while others took their turns just in complete excitement. He was loving every minute of it!




The battle had ended and no Padawan had given in to the dark side. Yoda's voice emerges through the music as he tells Darth Vader, "Strong with these young ones, the force is." He basically tells Vader to get lost and then the head Jedi tells the young Padawans that they are now true Padawan Leaners and to follow the ways of the force. Certificates were handed out and we had three very happy kids on our hands. What a truely awesome experience!




After the training was over we had 45 minutes left until the start of the Star Wars Parade so we grabbed a bench nearby and claimed it as our own. While waiting for the parade, Bret & Scott took the kids across from where we were sitting to meet characters as they came out.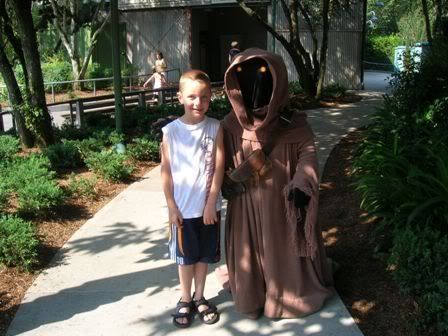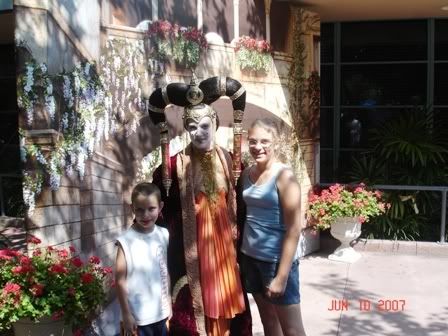 The parade began and we snapped pictures like crazy!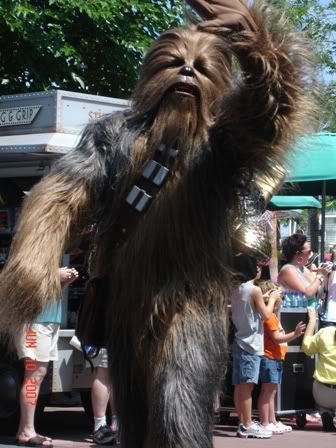 When the parade ended we fought the crowds back over to the stage and snapped more pictures and then headed down to Mickey Avenue to find Jabba's Hut. On the way there we ran into Greedo who was done taking pictures, but agreed to a couple more, but after finding some shade first. I can't imagine how hot they get in those costumes. Ryan was in total awe. Greedo is his favorite character. I think he was starting to believe that they were real.




We went into Jabba's Hut in hopes for a better selection of merchandise, but were really disappointed. We headed back to Tatooine to buy Ryan a Jedi robe and a storm trooper gun. Bret found two t-shirts for himself and Ashley found one herself. I had pretty much decided on getting a T-shirt and a sweatshirt that I had seen back at the gift shop at our resort and bought those later on our way back in.

Done with MGM now, we hopped on a shuttle to Epcot. We went back to Sunshine Season's for lunch because it had been so good the first time. It was even better the second time! Next we headed over to catch Honey, I Shrunk The Audience. Once again there was no wait time. I think that was the nicest surprise throughout this whole trip. You could walk up to any show and not have to wait. The show was good, but I guess I had been expecting some kind of backyard scene from the original movie.

After the show we stopped to check out the cool fountains and thought about how refreshing they looked. Obviously, we didn't think about it for very long.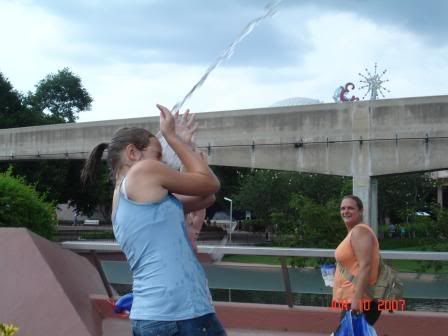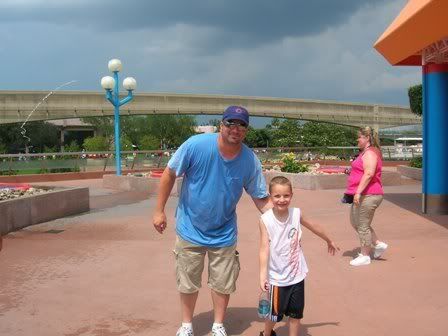 And to think that before lunch we were so tired and exhausted that we were planning on eating and calling it a day since we had to be up at 3am to catch our flight out the next moring.

Looks like we didn't think much about how dark the skies looked off in the distance either...

Leaving the fountains behind and feeling much more refreshed, many stopped us to ask where the water rides were. He He He. Our next destination was The Living Seas and we stopped for the only complete group picture of the entire vacation.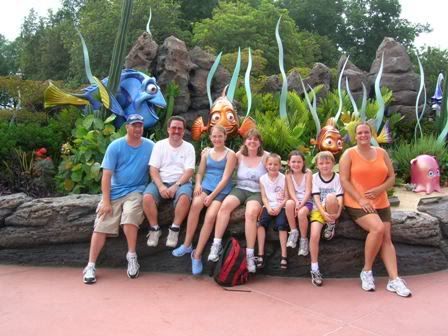 We headed inside to ride Nemo and start to freeze our behinds off because we are so thoroughly soaked but we head over to watch Turtle Talk With Crush anyway. We promise ourselves that we are going to go back to the resort and start packing after this. Crush is probably my favorite show in all of Disney. He was so incredibly funny - a definate must see.

So we leave the show and head to the door to leave when we hear the thunder and see all the people come running in. It's storming outside and while we secretly know we should leave because we're never going to be able to get up at 3am at this rate, we stay because that's what any normal and sane person would do, right?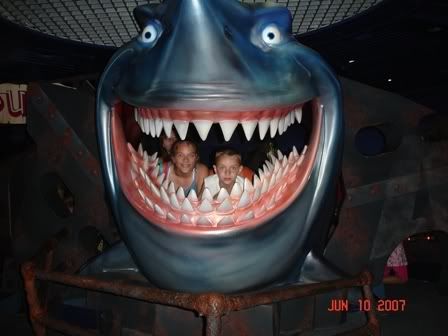 So while checking out all the cool fish I am still a bit bummed that I haven't gotten to ride Soarin' since the standby lines have been 85 minutes all day and fast pass return wasn't until 7:30pm. I suddenly had a great idea! It was raining pretty good outside, but we were right next door to The Land. Surely every other sane person at Disney was waiting out the rain indoors. So why don't we just run over there and see if the line for Soarin has gone down? Everyone jumped on that idea, threw on their rain ponchos and out the doors and into the rain we went. We got inside and went downstairs to find that the line still said 80 minutes, but it didn't look as busy as before so we went through. Twenty minutes later, we had ridden the most awesome ride of the day - two times! Whoo hoo!

On our way back to the hotel we stopped and took one more picture of the kids in front of the big golf ball since the rain had stopped.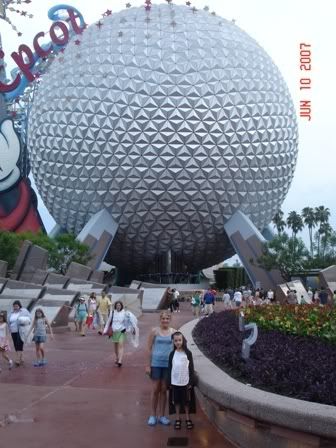 Sadly, we walked up to our room at Pop Century for the last time, taking pictures along the way.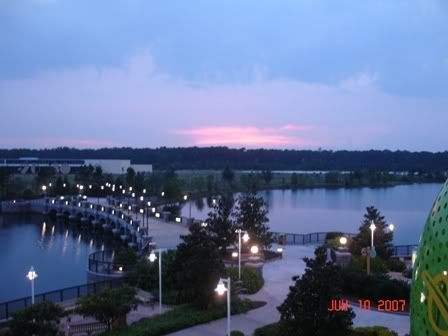 Ryan cried the whole way up in the elevator because he said he never ever wanted to leave.

Our wake up call came at 3am and we groggily got out of bed, dressed and dragged our 5 suitcases downstairs to check out. The shuttle came at 3:45am and the plane took off on time at 7:15am. We arrived in Bloomington, IL, after an hour delay in Atlanta due to poor visibility, at 12:30pm our local time and were glad to see our minivan still there in the parking lot.

I knew I was home and the vacation was over when not 5 minutes into the drive back to Peoria, the kids had already started fighting.

Good-bye, Orlando! (Sniff Sniff)