Today is the day we have all been looking forward to – Star Wars Weekends at MGM. We woke this morning at 6:45am and got dressed and headed down to eat breakfast at 7:15am. We ate quickly and were in line for the bus to MGM by 8:15am. The line was very long and it was already very hot and humid outside – probably the hottest it's been here so far. Already sweating, we boarded the bus after watching 1 already fill up and pass by us. We were on our way to meet Ryan's favorite Star Wars characters. Today was his day – okay, and Bret's, too.




We spent maybe 10 or 15 minutes waiting to get into the park and the magic had already begun. Star Wars theme music played from every direction. Ryan was already more than excited. He didn't like the delay, but we stopped for a picture in front of the big hat anyway.




We headed straight for Star Tours and rode with only a 10 minute wait.




Ryan was nervous because of his experience with Thunder Mountain Railroad yesterday, but he did get on and seemed to enjoy it. The ride let us out at the gift shop and we browsed, pulling Ryan away from the action figures that he already has hundreds of that are so much cheaper to buy at Wal-Mart. (I'm cracking up here because I left the hyphen out of the word Wal-Mart and spell check caught it. Did you know that word was in the dictionary?) Anyway, he settled on a navy blue t-shirt that says Jedi Academy on it and talked us into letting him use his Disney Dollars to buy a Storm Trooper costume. It was a bit pricey, but I figured it could double as his Halloween costume this year as well.

Here's a picture of him in it from later on this evening.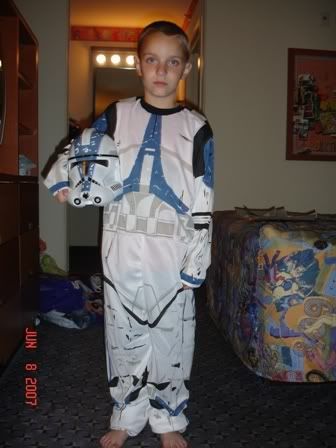 We left the store and continued on in the park and stopped at the Muppets 3-D show. It was nice and cold in there and there was no wait for the show. It seemed there was never any wait for any of the shows – very impressive. The show was cute although I'm so brain dead right now that I can't seem to remember much of it other than the fact that we've found Disney's 3-D shows amazing. I'd love to know how they do it.

Next, we walked through the Streets of America set and got some great pictures of the kids.




The Lights Motor Action Stunt Show wasn't starting until 11:50am and the big kids (adults included) wanted to find some rides so we headed over to Aerosmith's Rock n Roller Coaster.




The standby line was (ouch) 85 minutes. I wanted to Fast Pass it and come back later but was out voted. So we stood in line. Then we stood in line some more. And more. Finally we reached the inside of the building and were next to load. Now I'm not sure why I didn't realize this before, but I'm just finding out 2 minutes before getting on the ride that it loops upside down. I've done rides like this before, but it's been a loooong time – and I have to pee. Badly – and I have no choice but to get on. The 0-60 mph in 2.78 seconds was like nothing I've ever experienced before. Wow – and I had managed not to pee my pants. I even started rocking out to the music during the ride. (Don't tell anyone…LoL) Once the ride was over, we unloaded and went to check out the picture screens to see our take off pictures. OMG! I didn't realize Ashley's jaw could come unhinged and her mouth could open that big. I just looked plain scared and in pain. Way too funny.

We had talked the big talk of going on Tower of Terror, but all chickened out instead. It was time for the Stunt show to start so we headed over there to meet back up with Bret and Ryan who were doing their own thing while we waited in line.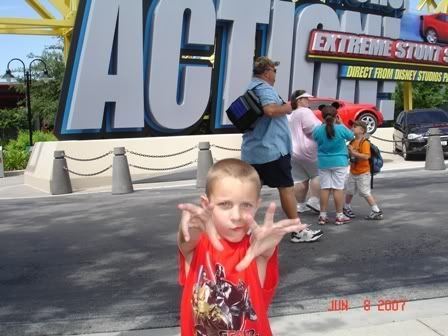 On our way to the Stunt Show we found we had missed the Star Wars parade. It had started at 11:15am and was already in full swing as we walked back. I guess I thought it was the same as the 3pm Stars and Cars Motor Parade. We decided right then and there that we were changing our plans for tomorrow and were going to make sure we saw the Star Wars parade.

We got to the Stunt Show and the guys were all amazed by the action. I though it was cool, too but was starting to get hot and tired. We were in definite need of a cool break so we headed over to Toy Story Pizza Planet Arcade for some lunch. The lines were long and moved very slowly and we couldn't find a table that we could all sit at, so we let the kids sit while we stood and ate. The pizza was good, but even counter service in the parks is so expensive. Could have really used that Dining Plan!

With full tummies and ready to go again, we headed back to the Star Tours area to see if the kids could get picked for the next Jedi Training Academy.




They didn't get picked and were pretty bummed, but they all went nuts when Darth Vader and Darth Maul came out. The crowd went crazy. I went crazy and I'm not really all that into Star Wars. It was so life like and the little Padawan Learners looked so cute up there fighting Darth Vader and Darth Maul.




We did get to see the Disney's Stars and Cars Motor Parade. The kids loved seeing all of the characters and I was really impressed with how well they really pay attention to their fans.




After the parade, we stopped in a gift shop and bought Ashley a blue tie dyed Disney t-shirt and then headed back to our resort for a refreshing swim in the pool. We had pretty much wilted in the Florida heat and needed a break desperately.

By 4:30pm, we had been swimming in the Hippy Dippy pool for about 15 minutes when from a close distance you could see a storm moving through. Thunder was rumbling and now there had been two lightning strikes. The lifeguards closed the pool and we headed upstairs to our room to get dressed.

We ate dinner again at Everything Pop. As I said before, the food there is great and with our refillable resort mugs, we've been saving a bundle on drinks and getting our money's worth out of them as well.

Skyler and Ryan finishing up their dinner.




The space shuttle was scheduled to launch tonight and we heard that we might be able to see it so we headed over to the top floor of one of the 80's buildings to see if we could get lucky. We did! It was one of the most amazing experiences we've ever had. When will we ever have an opportunity like this again. I am so glad my kids got to witness it. (Although I did pray that nothing would go wrong resulting in us having to explain a horrible tragedy to our kids.)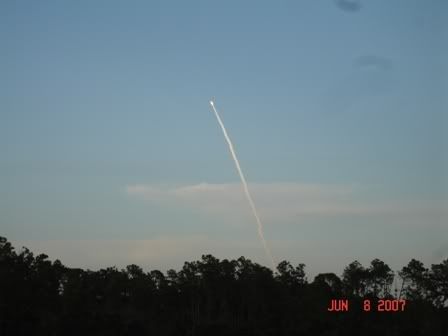 At a little after 8pm we arrived at the Magic Kingdom and grabbed a spot on the sidewalk on the corner of Main Street right outside one of the little candy shops. We had great seats for the Spectro Magic Parade which was starting from right around the corner. We all really enjoyed seeing the brightly light floats holding all of our favorite Disney characters. The parade lasted about a half hour and we decided to stay put and wait for the Wishes fireworks show.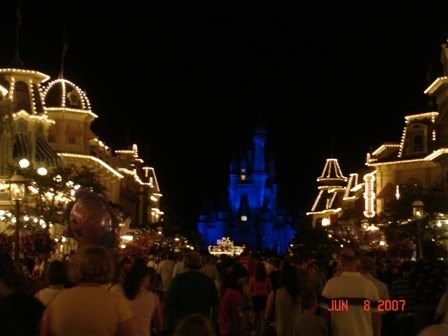 As the park began filling up even more, we left our corner on the sidewalk and sat down right smack in the middle of Main Street to wait for the fireworks to start. Ryan was already tired and not looking forward to another night of fireworks, but we had really been looking forward to Magic Kingdom's huge show so he had to make do. He fell asleep with his head in my lap and my hands over his ears 10 minutes before the show started. Everyone stood up as the sky started lighting up and Ryan and I were the only ones left sitting on the ground. All I could see was the top of each colorful blast in the sky. I tell you – the things we do for our kids. Everyone is enjoying the show when all of a sudden someone walks over and stands right in front of me and I can no longer see ANYTHING. Ugh. And if that's not bad enough, another person tries to squeeze past her completely stepping on Ryan and falling over us. My hand went up to shield us as she started to fall, but thankfully Bret had seen it happen and caught her before she landed on us. I feel really bad because my first instinct was to react to my child crying (more out of fear than pain I later learned) and I snapped at her. She was really truly sorry and I could tell she felt really bad which made me feel like an even bigger idiot. But everyone was fine and no one was hurt so no harm done, right? I did pretty much miss Wishes though, so that's a big bummer right there.

(Warning: I gave up on my hair the second day there. I lost the battle against the Florida humidity.)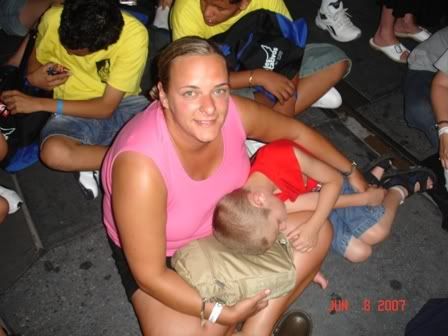 Bret was nice enough to take some pictures of it for me. LoL.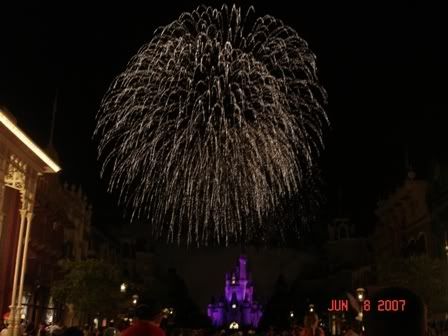 The show was now over and tonight was Magic Kingdom's EMH night and we had already gotten our bracelets upon entering the park earlier, so we headed out to Tomorrowland so Ryan could ride Buzz again, but the line was still really long so we walked over to Fantasyland and checked out Mickey and Minnie's houses.




Ryan then discovered Pooh's Playful Spot and was suddenly wide awake and running around like it was 12pm instead of 12am.




Once we were able to pry Ryan out of there, we went and saw Mickey's Philarmagic. I have never seen a better 3-D show in my life. The wind blows in your face and you smell the scents of all the yummy looking food that floats right up to your face.

Next we rode Peter Pan's flight and then It's A Small World – a song I will probably never get out of my head now, but a cute ride nonetheless. Both kids were wiped out by now so we were making our way to the exit when we passed Tomorrowland and Ryan suddenly perked up and said, "Let's go ride Buzz Light Year!" So we did.




And then we left – after taking a picture with the Indian on the way out for Grandma who has been teaching Ryan about Indians lately.




The day doesn't end here though. We left the park at 1am and got on a shuttle that would take us back to our resort. We had already planned to sleep in tomorrow morning since we were staying up so late tonight. The bus was standing room only. Now you would figure that this late at night when you see two kids standing on a bus, holding on to the pole, one nodding off to sleep and the other one sliding down to the floor with his father holding him upright against his leg, that someone would get up and let them sit in a seat. Nope. We got a lot of "how cute smiles" but no one offered up their seat. Now our neighbors who had caught a bus a bit earlier had better luck. Their driver told everyone on the bus that they were to give up their seats to children and pregnant woman. We did make it back, though Bret had a crick in his neck the rest of the night while sleeping. I don't think the kids have ever stayed up that late before.