Last night was a very late night. It was about 2am by the time we fell into bed and gave in to exhaustion, so this morning we decided to sleep in. I'm not really sure what the plan was for in regards of when to wake up, but I think it was something to the effect of whenever we could pry our eyes open and still make it to MGM to try and catch the Star Wars parade we missed yesterday and maybe give the Jedi Training Academy one more try.

We woke up at 9:15am to the sound of my cell phone announcing that I had a text message. It was my mom responding to a picture text I had sent her the night before. We got out of bed and quickly dressed and were ready to go. However our friends next door were still dragging from their late night so we waited until they were ready and went down to eat breakfast at 9:45am. (I am so glad I took detailed notes while I was there or I'd never remember all of this right now.) Things were moving pretty slowly and we didn't make it to the gate at MGM until 11am. By the time we were ready to enter the park we heard the parade already starting. Bummed and not sure what to do, we quickly decided to head out and go to Animal Kingdom instead.

We got to Animal Kingdom at noon and it was packed and already blazing hot and the air was dripping with humidity. The kids had their water misting fans that we had found at Walgreen's back home and they paid for themselves in minutes.




Before going through the gates we found that Chip and Dale were giving out hugs so the kids got in the short line to take their turn. Ryan said they were excited to see him because they remembered him from the parade at MGM yesterday. Ashley was almost as tall as them.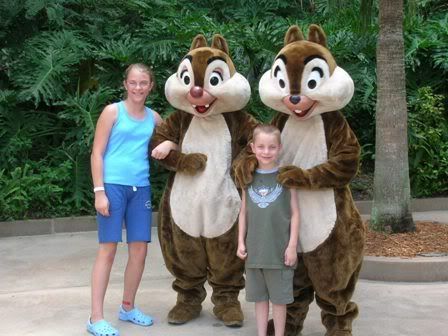 Bret and the kids and I went off on our own to Dinoland and had good luck with the lines there. Ashley and I rode Primeval Whirl, which was a blast while Bret and Ryan went and rode TriceraTop Spin, which Ryan loved and Bret handled well too since there was no spinning involved.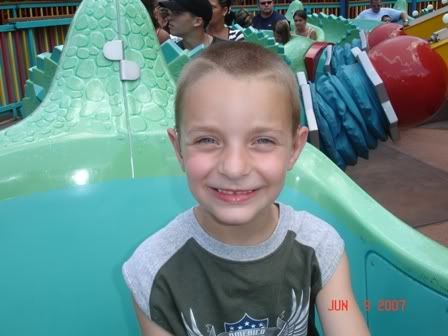 While in line for Primeval Whirl, Ashley and I almost got to experience a Magical Moment. A group of twenty or so in front of us in line were directed in a different direction and awarded a Magical Moment lanyard and pin. Then the next group of twenty received the same. We were in the group of the next twenty or so and getting really excited when they lifted the rope – and sent us on our merry way in the OTHER direction. The other direction! Can you believe that? (Sigh) At least we got to witness someone else having a Magical Moment.

We next ran into a couple of cute looking dinosaurs.




Our next destination was over to Dinosaur where we met up with Teri, Scott and the kids. They rode the ride while I took Ryan over to the Boneyard to play. I sure wasn't going to push him to do that one. They came back saying it was pretty scary. Bret said that Ashley kept her head down most of the time.




We were ready for some air conditioning next so we headed over to Finding Nemo The Musical. The kids and I thought it was a great show, but Bret fell asleep during it, saying that he though it was boring. We'll just blame that one on heat exhaustion.




We decided to eat lunch at Restaurantasaurus, which is pretty much a McDonald's – just more expensive and with a very long wait for your food. The food was good and after eating we were reading to take off again.

Next we contemplated if we had the guts to go on Expedition Everest. We were planning on getting a fast pass for that and then waiting in line for Kali River Rapids. That is until we got a close up of Everest and heard the Yeti roaring and the people on the ride screaming. And wouldn't you know it? They closed down the ride for some reason or another as we were walking past it, so we took that as a sign to keep on walking.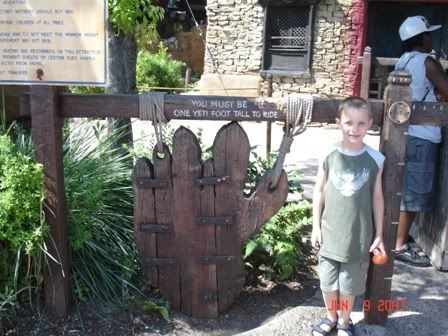 The wait for Kali was another long one – 80 minutes. Everyone wanted to ride it and the fast pass time was for 6:30-7:30pm. That's the thing about those fast passes – unless you get them in the morning, they either give you return times hours from now when you have plans to be elsewhere or they've just plain run out of them. The other thing is that when you're in the stand by line and the fast pass line starts to fill up, it brings your line to a complete stop while they load those people. It was great when we used it on Space Mountain, but just too hard to plan for when you're with a group of 8 people that all want to do different things. So we got in line and waited for Kali. It actually only took 40 minutes to get through and we did get incredibly soaked. The ride was fun but didn't last long enough. If we had fast passed it, Ryan could definitely have ridden that one.




While we were waiting for Kali, Bret and Ryan were off with Bret back in Dinoland in his favorite place there – The Boneyard.




They rode TriceraTop Spin again and even found Pooh, Tigger and Eeyore without anyone else in line. Ryan got a bit ticked off at Tigger though, because he poked him in the eye. Poor Tigger.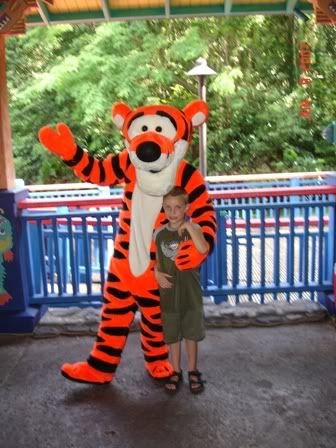 We all met up again and took turns seeing It's Tough To Be A Bug. Great show, but it would have freaked Ryan out.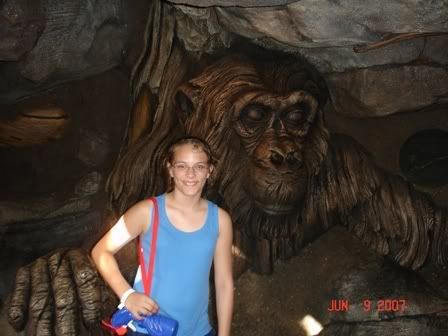 After the show, we left the park, but stopped at the Rain Forest Café so Quentin and Skyler could get some souvenirs.




Exhausted and overheated, we went back to the resort and stayed in the pool all evening. Teri and I ran into Everything Pop and brought dinner out for everyone. (I know we probably missed out on a lot of other great food, but it was just easier to eat there and it's where we happened to be each time without having to wait in long lines for food in the parks.) The kids swam a bit longer with Bret and Scott (Teri and I were freezing at this point).




We headed back upstairs and bathed the kids and were getting them ready for bed when the worst thing possible happened. We couldn't find Ryan's blanket anywhere. He hasn't slept without it a single night in his life and the heartbreak and hysterics were already beginning to start. We had left it in the bed and I had this sinking feeling that housekeeping had gathered it up with the bedding when they came in to clean the room earlier. I called down to Housekeeping and was told that there was nothing they could do about it because they send their laundry out to be cleaned elsewhere and that I could check with lost and found in the morning. Have you ever had a child try to go to sleep thinking his blanket is lost forever? Not a lovely sight. I tried nicely to explain to her that this was an emergency and that we had to find that blanket! I was surprised at how rude she was to me. I kept asking her if there was some possible way it was still there somehow and what the chances were of it being returned and she became very impatient with me. Ryan was full out crying his heart out at this point and I couldn't take anymore. Feeling helpless I told her I'd call in the morning and check back. After hanging up the phone Ashley grabbed a pillow off of the chair by the table and guess what was under there? Yes, the blanket. I was relieved (as was Ryan) but still put off by the way the lady had talked to me on the phone – as if some poor little boy hadn't lost his blanket there before. I never did give my name or room number so I didn't see the point in calling her back so we tucked a relieved and overtired Ryan into bed and hit the showers and turned in ourselves. This lack of sleep and pure exhaustion was getting to us. But behold – tomorrow was to be the day of all days – more Star Wars for the kids – and Bret & Scott, too.